US Senate bill aims to 'accelerate' arms sales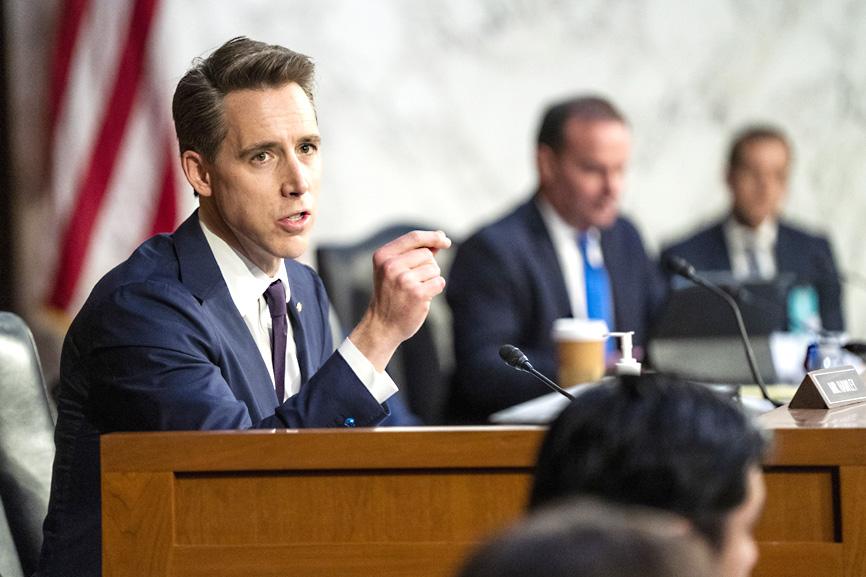 Writer, with CNA, Washington
US Senator Josh Hawley on Thursday introduced a bill that he said would "speed up the shipment of weapons to Taiwan" amid rising tensions in the Taiwan Strait.
Hawley said in a statement that Taiwan's arms export law would seek to expedite the delivery of critical weapons to Taiwan by expediting congressional approval and removing administrative roadblocks.
He said the bill was key to ensuring Taiwan has the weapons it needs to defend against a possible Chinese invasion, including naval mines, anti-tank missiles and man-portable air defense systems.
The bill seeks to change Taiwan's designation under United States Export Administration regulations to "Country Group A:5" from "A:6" in a bid to receive a licensing exception from strategic trade authorization.
Other countries rated A:5 include NATO member states, Australia, India, Japan and South Korea, according to the statement.
The regulations allow the U.S. government to impose export controls to protect national security interests and promote foreign policy objectives, says the U.S. International Trade Administration website.
Hawley's bill also aims to speed up the approval of arms sales licenses to Taiwan, the statement said.
"The [US President Joe] The Biden administration waited for Russia to invade before delivering lethal aid to Ukraine," Hawley said in the statement, adding that the "mistake 'could not be repeated in the Indo-Pacific region.'" This is why it is so important to get weapons to Taiwan quickly now, when Taiwan still has time to muster its defenses and deter a Chinese invasion."
Last year, the senator introduced two bills he said were part of efforts to "deter a Chinese invasion of Taiwan and strengthen U.S.-Taiwanese relations" – the Taiwan Defense Act and the Taiwan Arms Law.
In Taipei, the Foreign Ministry yesterday thanked Hawley for his support for Taiwan and national security, adding that it would closely monitor the progress of the bill.
The ministry will continue to work closely with the US government to enhance friendship between countries and help promote peace and stability in the Indo-Pacific region, he said.
Additional reporting by Yang Cheng-yu
Comments will be moderated. Keep comments relevant to the article. Remarks containing abusive and obscene language, personal attacks of any kind or promotion will be removed and the user banned. The final decision will be at the discretion of The Taipei Times.