Senate Bill 615 signed into law, will require that "restrooms or locker rooms in … public schools be designated exclusively on biological sex." | Government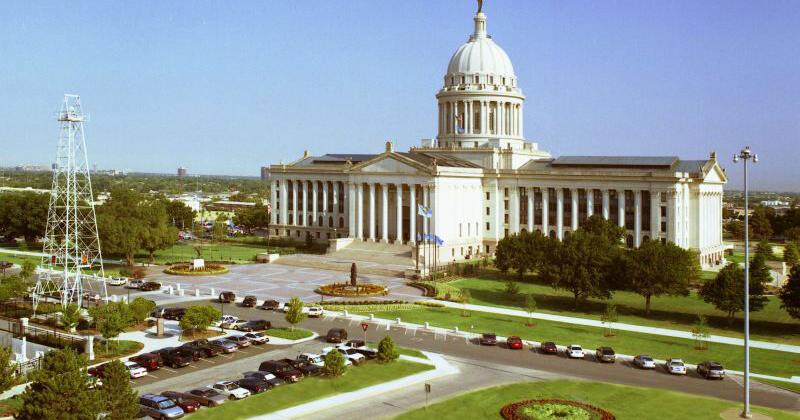 Last week, the Governor of Oklahoma Kevin Stitt signed into law Senate Bill 615.
According to a press release from the communications staff of the Oklahoma Legislative Assembly, the new law requires that "restrooms or locker rooms in Oklahoma public schools be designated exclusively on the basis of biological sex." David BullardR-Durant, a strong supporter against school indoctrination of Oklahoma students, said his legislation will further protect their privacy rights in school bathrooms.
An advocacy group for "trans, two-spirit and gender-diverse students" attacked the new law in a press release.
In a statement sent to The Oklahoma City Sentinel and other news outlets, Senator Bullard commented:
"I am proud of the Legislative Assembly and the Governor who joined me in approving this common sense legislation requiring all individuals to use washrooms and changing rooms that match their biological sex. We must not allow the shrill cries of the far left to replace the facts of biological science and irrefutable evidence.
"As John Adams said, 'Facts are stubborn things; and whatever our wishes, our inclinations, or the dictates of our passions, they cannot alter the state of facts and evidence.' "The fact is that there are only two sexes, male and female. Our children deserve and demand privacy and protection; and in Oklahoma they will get it now."
According to the Legislative Staff's account, the new law 'requires every public school and public charter school that serves K-12 students to require that all multi-occupancy restrooms or locker rooms be designated for use. exclusive male or female sex. It defines "sex" as the physical condition of being male or female based on genetics and physiology, as identified on an individual's original birth certificate. It requires every school to provide reasonable accommodation – a single occupancy washroom or changing room – for anyone who does not wish to comply with the requirement."
Bullard also said, "Each individual state oversees education as reserved by the 10e Amendment and our Nation's Constitution. We are responsible for protecting the freedom of all students, not just a few.
"How far have we slipped in our society when we are ready to fail our children by forcing them to live in someone else's fantasy. I am dedicated to suppressing all forms of indoctrination, including this one.
Vigorously opposing the legislation has been Nicole McAfeegeneral manager of Liberty Oklahoma. The organization's press release said "trans, two-spirit and gender-diverse students" would be harmed by the enactment of SB 615.
McAfee asserted, "This law is unconstitutional" and "a violation of Title IX of the Civil Rights Act." …" McAfee added, "Trans and Two-Spirit kids have always been there. They used gender-conforming toilets and other facilities at school and everywhere else without incident."
The story in the press release continued, "Trans and Two-Spirit children deserve the safety to imagine their futures, whether in Oklahoma or beyond. They deserve dignity and respect, in school and everywhere else." McAfee also said, "As the venue moves away from the state legislature and state board of education and state school boards, we will be shifting our work to the fighting on the ground. "
She concluded, "We ask that stories covering this topic include information for accessing 2SLGBTQ+ mental health support, such as Trans Lifeline (877-565-8860), The Trevor Project (call 1-866-488-7386 or text START at 678-678), and the LGBT Helpline (888-843-4564)."
State representative Danny WilliamsR-Seminole — the main House author of SB 615 — said:
"Oklahomians across the state were concerned about their children's privacy due to a lack of standard bathroom policies at each of our public schools.
"After much discussion, it became clear that legislative action was needed to clarify state law. I appreciate everyone's work to pass Senate Bill 615 so that we can protect everyone from our students."
representing Kevin WestR-Moore, co-author of the measure and filed a friendly amendment clarifying toilet school policies during the legislative deliberation of the measure.
In the comments sent to The Oklahoma City SentinelRep. West said:
"The purpose of this law is to ensure that our students are adequately protected against situations that could cause them harm.
"I am concerned about protecting the safety, privacy and dignity of all children. My colleagues and I hear from parents every day who are concerned about school policies that affect their children. This gives teachers and administrators guidance clear on this issue and leaves the broader conversation about sexual or gender identity between a parent and child where it should be."
A leading conservative analyst, Jonathan Small of the Oklahoma NecknotPublic Affairs (OCPA) welcomed the measure during the legislative debate, saying in an email:
"In some public schools, even here in Oklahoma, girls are forced to share locker rooms and bathrooms with men who pretend to be women. Parents who complain are told they are bigots.
The Oklahoma House of Representatives amended Senate Bill 615 to add a requirement that public schools protect girls from this ideological madness."
State Representative Forrest BennetD-Oklahoma City, argued in a press release during the debate process, "Senate Bill 615 hurts people. It hurts progress. It hurts Oklahoma."
His colleague, the state representative. Monroe NicholsD-Tulsa, argued, "SB 615 isn't just a bad bill, it's a job killer."
State Representative Mauree TurnerD-Oklahoma City, in the House Democratic staff press release, said a law such as SB 615 "allows bigotry and hatred toward our young people."
The legislation, according to Representative Turner, "promotes an environment where children do not feel safe".
On May 19, for the final move to the State House, SB 615 won 69 to 14 support, with 17 lawmakers excused (not voting).
In the Oklahoma State Senate (also May 19), SB 615 prevailed 38-7, with three members excused (not voting).
NOTE: Patrick B. McGuigan of The Oklahoma City Sentinel compiled this report based on vote analysis, legislative press releases, activist statements and other sources.