Senate inquiry asks Scott Morrison to apologize to Christine Holgate for leaving Australia Post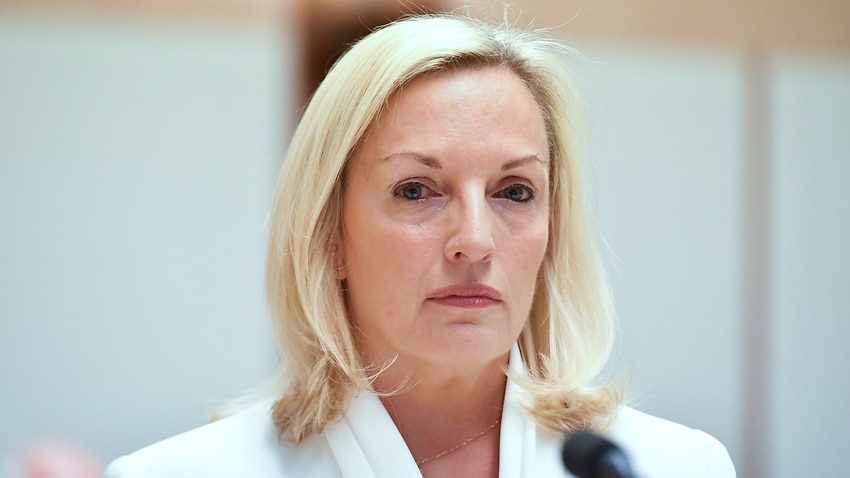 Ms Holgate quit her post after it was revealed at a Senate estimates hearing last year that she had offered $20,000 worth of luxury watches to four senior executives.
Mr Morrison delivered a stern public rebuke following the October 22 revelations, telling Parliament he was appalled by the purchases and that if Ms Holgate did not step aside 'she can go'.
The inquiry report into the circumstances surrounding Ms Holgate's departure found that Mr Morrison's intervention played a 'central role' in destabilizing her position.
It recommends that "the Australia Post board and shareholder ministers and the Prime Minister apologize to Ms Holgate for denying her the legal principles of procedural fairness and natural justice upon her departure from Australia Post".
In powerful testimony to the inquest in April, Ms Holgate said Mr Morrison had "humiliated" her by his intervention in the case, severely damaging her mental health.
The report backs up that conclusion, saying intense public scrutiny and a lack of support from Australia Post led Ms Holgate to go from one of Australia's most influential businesswomen to 'disgraced and humiliated'.
Australia Post Chairman Lucio Di Bartolomeo appears via video link before a Senate inquiry into changes to the Australia Post in Parliament, April 27, 2021. Source: AAP
---
The committee also criticized the role of the chairman, Mr Di Bartolomeo, in Ms Holgate's departure from the company.
She has already accused him of having "illegally" dismissed her.
"The committee recommends that the chairman of Australia Post resign accepting responsibility for the organization's failings in relation to the Holgate case," the report said.
Mr Di Bartolomeo denied that Ms Holgate had been expelled, saying she agreed to step down on October 22 after public backlash against the spending.
Non-government members also questioned the veracity of the president's evidence and the "lack of strong and effective policies and financial oversight processes in place throughout his tenure."
Government members of the committee pointed out in a dissenting report that the purchase of the watches took place before Mr Di Bartolomeo took up the post.
"The evidence presented to the committee highlighted that the current president sought to work constructively with Ms. Holgate during what was a rapid sequence of events unfolding in the media spotlight," they said.
President of Australia Post Lucio Di Bartolomeo. Source: AAP
---
The majority of the committee also recommended that the solicitor general investigate the legality of the shareholder ministers' instruction that the board would remove Ms Holgate pending an investigation.
And, he called for an Auditor General investigation into Communications Minister Paul Fletcher, asking the board to sack Ms Holgate.
Speaking to reporters on Wednesday, Senator Hanson-Young said the investigation revealed a "lack of independence" and "political interference" surrounding Ms Holgate's downfall.
'What we found in this investigation was that Ms Holgate was treated appallingly,' she said.
"She was humiliated by the Prime Minister during Question Time and that humiliation sealed her fate."
Mr Morrison has previously defended his response, saying his intention was not to hurt Ms Holgate.
"It was not my intention to cause distress to Ms. Holgate and I regret any distress that strong language may have caused and has caused her," he told reporters in April.
"That was not my intention. This question was about how taxpayer-funded businesses are run."
In a dissenting report, members of the Coalition commission rejected the suggestion that Mr Morrison should apologize and Mr Di Bartolomeo walked away calling the investigation 'highly politicised'.
'This impacted many of the Majority Report's recommendations and the events leading up to and during the inquiry have become a significant distraction to the valuable work of Australia Post,' he said.
"Liberal and National senators do not support some aspects of the analysis of the evidence and many of the recommendations of the majority report."
Coalition members said the claim that Ms Holgate had been denied procedural fairness was 'contested' and that the Auditor General would have no jurisdiction to review Mr Fletcher's conduct.
"While we are focused on jobs for Australians, we have a Labor stacked opposition committee that is focused on themselves," Minister Stuart Robert told SBS News.
Labour's communications spokeswoman Michelle Rowland called on Mr Morrison to heed the report's recommendations.
"It's very clear that there were double standards here," she told SBS News.
Ms Holgate has previously directly called on Mr Morrison to apologize to her, accusing him of playing a key role in her downfall.
In a statement on Wednesday, she said she wanted to "dedicate today's outcome to all those who experienced bullying and felt helpless and alone."
Mr. Di Bartolomeo also released a statement on Wednesday, saying the company recognizes "the importance of the Senate investigation and acknowledges the final report released today."
'Australia Post remains engaged in a mediation process with Ms Holgate regarding the circumstances of her departure from the organisation,' it said.